Warrenpoint police deaths inquest hears of fears about PSNI 4x4s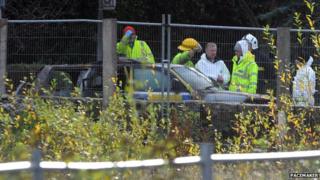 Questions have been raised about armoured 4x4 vehicles used by the Police Service of Northern Ireland.
An inquest into the deaths of four officers killed in a fire in their 4x4 after it crashed in 2008 has been hearing from expert witnesses.
The County Down crash was the single biggest loss of life in the PSNI's history, and the exact cause of the accident has not yet been established.
The officers were travelling down a dark, wet road outside Warrenpoint.
They were going to the aid of a colleague in distress.
Constables Kevin Gorman, James Magee, Kenny Irvine and Declan Greene were killed in November 2008
The court heard from crash investigators that after a series of bends in the road the vehicle spun 180 degrees and hit a wall, jamming the doors and trapping the officers in a fire.
Although the driver had been travelling at 73mph, the car had slowed considerably before he lost control of the vehicle.
The experts could not be sure what caused the back wheels to spin, but said it was possibly due to loss of traction after passing over a manhole cover.
The police investigator confirmed to the court that armoured Mitsubishi Shoguns should not have been used as "blue light response vehicles" because of safety concerns when travelling at speed, but that at the time it was regular practice in many areas to do so.