Six men pull women from car in Dunbar Link, Belfast, hijacking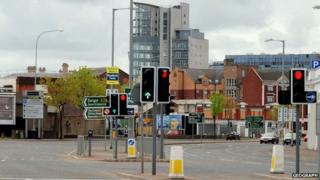 Two women have been pulled from their car by six men during a hijacking in Belfast city centre.
It happened at a car park at Dunbar Link at about 18:50 GMT on Saturday. The men then drove off in the car, a red Volkswagen.
It later crashed into another car on the Falls Road in west Belfast at about 19:00 GMT. A woman and child in the other car suffered minor injuries.
The hijacked car was found abandoned at Devonshire Place at about 20:15 GMT.
Police have appealed for witnesses to contact them.