Eamon Bradley in court to face weapons charges in Syria inquiry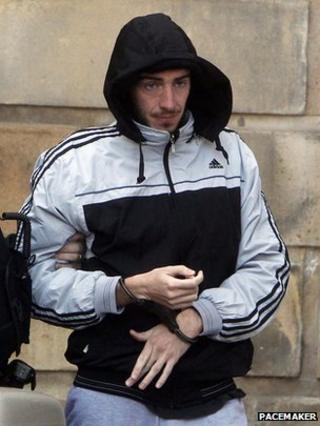 A man arrested in Londonderry as part of inquiries into reports of alleged activity in Syria has appeared in court on guns and explosives charges.
Eamon Bradley, 25, was detained at a house in Melmore Gardens in the Creggan area of the city on Thursday.
He has been charged with possessing a grenade with intent to endanger life and receiving weapons and explosives training in Syria.
A bail application by Mr Bradley was refused.
The charges, the first of their kind against a terrorist suspect returning to Northern Ireland from Syria, were brought under the new extra territorial enabling legislation.
A detective sergeant told Londonderry Magistrates' Court that Mr Bradley was arrested on his return from Syria following media reports he had allegedly been fighting in the civil war there.
The court heard that during police interviews the accused described his conversion to Islam before travelling to Turkey and eventually entering Syria by crossing a river.
Mr Bradley spent two months attending camp run by the Army of Islam group, learning to use various guns, mortars and explosives.
He claimed he was involved in battles against ISIS forces and the army of the Assad regime, however, he added he did not use his weapons during the fighting.
Police objected to bail on the grounds he might abscond and because of the risk that he might use his weapons' training for other groups.
The district judge said it was with some reluctance that he was refusing bail because of the risk of Mr Bradley fleeing and the risk of coercion by domestic terrorist groups even though the defendant had no links to them.
He was remanded in custody to appear in court via video link next month.