PC Bryan Stronge accused of stealing £53,000 from Northern Ireland Court Service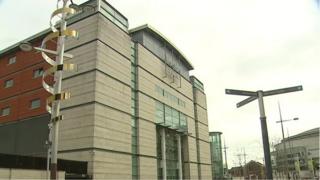 A police officer has appeared in court accused of stealing almost £53,000 in cash that belonged to the Northern Ireland Court Service.
PC Bryan Thomas Stronge, whose address was given as C/O Tennent Street police station, west Belfast, pleaded not guilty at Belfast Crown Court.
He denied stealing money that was to have been transferred to the Northern Ireland Court Service.
The theft was alleged to have taken place between 2009 and 2012.
The police officer's barrister told the court: "My client denies taking the money. My client is saying: 'It wasn't me'.
"Where the money went to, well that's a mystery," the barrister added.
The defence team has employed a forensic accountant to examine a large number of documents in the case.
The barrister said the accountant would examine "how the money was processed at Antrim Road PSNI station before going to the court service".
The judge a trial date had been set for 16 March, 2015 and the hearing was expected to last up to two weeks.
PC Stronge, 52, was released on continuing bail to await the start of his trial.