GRAHAM and Lagan Construction Group win Green Port Hull contract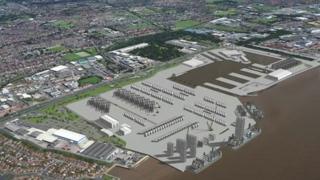 A joint venture between two of Northern Ireland's largest construction firms has been awarded a £100m contract for a major marine project in Hull.
GRAHAM and the Lagan Construction Group will redevelop a dock to eventually be used as a wind turbine factory.
The project, known as Green Port Hull, will involve reclaiming 7.5 hectares of the Humber river to create a new quay.
It will also require earthworks, dredging berths and building internal access roads and service networks.
German multinational Siemens will then build its wind turbine facilities on the site.
Paul Scott, project director for the joint venture, said Green Port Hull would be a "world-class manufacturing facility" and would establish the Humber at the centre of the offshore wind sector in the UK.
Northern Ireland's major construction firms now do the bulk of their work in Great Britain, reflecting the lack of recovery in the local market.
GRAHAM's current projects include work on Glasgow's subway system, while the Lagan Construction Group's projects include an energy-from-waste plant in Cardiff.