Northern Ireland public raises £190k to tackle Ebola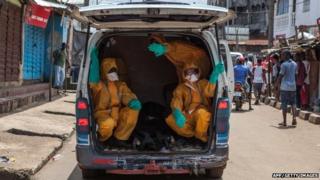 The Northern Ireland public has been praised for its generosity after donating more than £190,000 to a charity appeal to help tackle the Ebola crisis.
The Disasters Emergency Committee (DEC), which is made up of 13 leading UK aid charities, said it was humbled by the response from Northern Ireland to its appeal.
People in NI gave £190,664.
A total of £14m has been raised for the appeal since it was launched last week.
DEC Chief Executive Saleh Saeed said: "The people of Northern Ireland have been incredibly generous and I want to thank each and every one of those who have donated for their kind support.
"This money will help us continue to deliver aid to millions who have been affected by the deadly Ebola outbreak.
"DEC member agencies are helping to combat Ebola in various ways, from supporting survivors and arranging safe burials to distributing hygiene kits and sharing information to help prevent the spread of this deadly disease."