Desertcreat college: Northern Ireland executive reaffirms commitment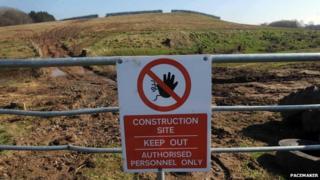 The Northern Ireland Executive has said it remains determined to deliver on its commitment to build the new training college for the police, fire and prison service.
Earlier this month, a team in charge of plans to build the £130m facility at Desertcreat, County Tyrone, said the project should not continue.
More than £12m has already been spent buying the site and on design fees.
The executive said the Programme for Government commitment would be met.
It also criticised "recent media reports that the community safety college at Desertcreat would not go ahead".
'Taking stock'
On Thursday night, Justice Minister David Ford also confirmed the executive remained committed to the project, in an interview with BBC Northern Ireland's The View.
"We need to establish whether the current plan, Desertcreat mark one, is actually the valid plan going forward, but it is a pause and take stock exercise, both looking at the capital project and the long term needs," he added.
"It is not saying this is not happening, it is saying we are taking stock."
The steering group in charge of the project had said concerns about the current financial environment meant it "would not be prudent to press ahead".
The Community Safety College, near Cookstown, would be one of Northern Ireland's biggest construction projects.
It was first announced in 2004 and was originally due to be finished in 2008.
Last December, it was announced that a consortium made up of Belfast company Gilbert Ash and Spanish firm FCC had been appointed to build it.
Work had been scheduled to begin earlier this year.
However, a senior police officer told a joint meeting of the Enterprise and Justice Committees in March that the procurement process was still ongoing.
Alistair Finlay said there was some uncertainty over whether the preferred bidder could meet its tender requirements.