OTRs inquiry chair says Tony Blair may be compelled to attend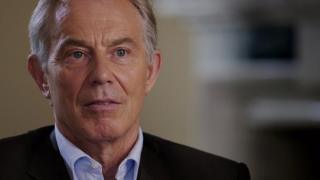 Former Prime Minister Tony Blair could be compelled to appear before a parliamentary inquiry into so-called On the Runs (OTRs), its chairman has said.
The Northern Ireland Affairs Select Committee is holding an inquiry into government letters sent to more than 200 republican paramilitary suspects.
The letters emerged in February, when the Hyde Park IRA bomb trial collapsed.
Inquiry chairman Laurence Robertson said the committee would "do whatever we can to persuade him to come".
"We hope it could be on a more professional business, but if he continues to deny us the evidence that we feel only he would have, we'll have to take the steps we have to take," he told BBC Radio Ulster.
Mr Robertson acknowledged there was "some uncertainty about the powers" of the committee to compel Mr Blair to attend.
"Certainly the Speaker in his response to me yesterday said that would be an option, although he stressed he hoped it wouldn't come to that," he said.
---
Analysis: Select committee powers
In theory, Parliament can summon witnesses to appear before select committees.
But questions were raised over the powers in 2011 when US Kraft chief executive Irene Rosenfeld refused an invitation to appear before the business select committee and other officials attended in her place.
And there were initial doubts over whether News Corporation boss Rupert Murdoch and his son James, as US citizens, could be compelled to attend a hearing on the phone hacking scandal, although both did after being summonsed by the culture committee.
Last year, a wide-ranging report by a joint committee of MPs and peers called for Parliament to do more to clarify its powers to summon witnesses and demand evidence.
It said the main obstacles to the Commons imposing its will were "institutional reluctance" and fear of a successful legal challenge - the European Court of Human Rights has asserted its jurisdiction over national parliaments' privileges.
---
The OTRs letters scheme began while Mr Blair was prime minister.
A statement released on Wednesday through Mr Blair's office said: "No one should be in any doubt of Tony Blair's commitment and respect for the people of Northern Ireland and indeed he has already given evidence to the government's inquiry led by Lady Justice Hallett about this issue.
"We are in ongoing correspondence with Mr Robertson about the committee's request, given that he has refused to accept written evidence," it added.
The scheme became the focus of controversy after the collapse of a case against County Donegal man John Downey in February for the 1982 Hyde Park bombing.
Squadron Quartermaster Corporal Roy Bright, Lieutenant Anthony Daly, Trooper Simon Tipper and Lance Corporal Jeffrey Young were killed in the attack.
The judge dismissed the case after it emerged Mr Downey had a letter from government officials mistakenly telling him he was not wanted by any UK police force. It emerged during the case that several hundred similar letters had been issued.