Tyrone County Hospital wards merger 'bizarre'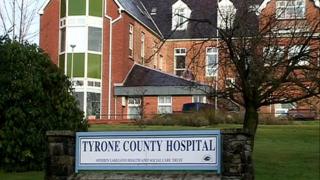 A decision to merge the palliative care ward at Tyrone County Hospital with the rehabilitation ward has been described as "bizarre".
The move was announced last week as part of cuts to health services.
It will mean terminally ill patients being treated in the same ward as patients who are recovering.
Hospital campaigner Kerry Irvine, whose husband Noel, was treated in the palliative care ward, said it was a "bizarre juxtiposition of services".
She said her husband got a dignified, peaceful and respectful service and now families of people dying from cancer would be expected to visit in the same wards with those people trying to get better in a rehabilitation ward.
Tyrone County Hospital in Omagh is closing its palliative care ward and amalgamating it with the rehabilitation ward in the same hospital.
The wider health cuts will mean potentially more than 100 fewer hospital beds and wards closing at the weekend.
As part of the cuts, Northern Ireland's only dedicated respite centre for people with multiple sclerosis - at the Dalriada Hospital in Ballycastle, County Antrim - is being closed.