World War One : Waterford remembers 14-year-old John Condon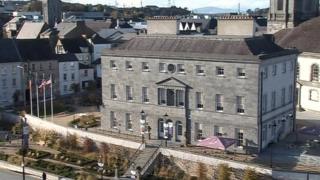 On a bright, sunny, but wintry day, there are a few people inside Bishop's Palace, one of the homes of Waterford's Museum of Treasures.
A song from around 100 years ago plays over old battle-scene footage from World War One, all part of an exhibition to remember the 1,100 local men who died fighting in the British army.
The exhibits include medals, and part of a boot of the youngest soldier to die in the conflict.
On his tombstone it is written that John Condon was only 14.
"He always wanted to be a soldier," said William 'Sonny' Condon, whose father was a cousin and close friend of John.
"He used to play hurling and he used to use the hurl as a rifle and he said when he was old enough he'd become a soldier."
The family believe John wasn't quite 14 when he joined the third battalion of the Royal Irish Regiment.
The Young Soldier - as he is often known - was in the trenches for just five months, according to Sonny, when he perished in the Second Battle of Ypres in 1915.
"He died of the mustard gas the Germans were using for the first time. Soldiers couldn't run away for shelter because they'd be shot for cowardice. So, they were caught one way or the other," he said.
Mass grave
John Condon - whose actual age is disputed by some - was buried in a mass grave.
In 1923, it was opened up and his remains were identified because of the number engraved into the leather of one of his boots.
He was re-interred in Poelcapelle cemetery in Flanders where there are nearly always fresh flowers on his grave.
That piece of identifying leather is in the Waterford museum.
Outside stands a 4.3 metre tall green conical-shaped sculpture that bears John Condon's name.
Sculptor Pat Cunningham said the piece seeks not to glorify war, but to remember Waterford's war dead in a spirit of remembrance and reconciliation.
"It is a bronze sculpture in the shape of a vessel which has echoes of battle-field archaeology," he said.
"The idea of the vessel is that it links our past with our present and it brings back or recalls memory and holds it here in Waterford."
Victoria Cross father and son
Just inside the Bishop's Palace Museum there's a giant portrait of Field Marshall Frederick Lord Roberts, the Earl of Waterford, Kandahar and Pretoria.
He grew up partly in the south east of Ireland where his family had a long history.
He and his son were one of only three fathers and sons to receive the Victoria Cross.
He retired from the army after being commander-in-chief in 1904, but in his 80s was recalled to service once the war broke out, according to the museum's curator, Donnchadh Ó Ceallacháin.
"He was appointed commander of overseas forces stationed in Britain. And in November 1914 he was on a tour of inspection of Indian soldiers serving on the western front when he caught a chill, caught pneumonia, and he died aged 82, the oldest serving soldier to die in the war," he said.
Field Marshal Roberts - known as Bobs - has another distinction.
He is the only non-royal apart from Winston Churchill to lie in state in Westminster Hall and to be buried in St Paul's.
Eamonn McEneaney, the director of the museum, said that such was his popularity that the phrase Bob's Your Uncle is associated with the old soldier.
"The field marshal was not an aristocrat; he was made a lord later on by Queen Victoria," he said.
"His grandparents were just tradesmen, which is what architects were at the time," he adds, "Apparently, he was very decent with his troops looking after their welfare. He was very much admired by the regular troops and that's why he was called Bob's Your Uncle; it was an affectionate term of endearment."
The museum has several of Lord Roberts' items on display until the end of this month.
The John Condon pieces are on permanent display as Waterford remembers its links to the oldest and youngest soldiers to die in the First World War.