Rainbow Project disappointed solution over 'gay cake' row not found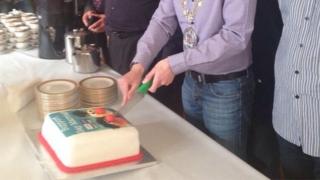 A gay and lesbian support group has said it is disappointed that a row over a 'gay cake' had not been resolved through agreement.
The Equality Commission said it was taking legal action over a Christian-run bakery's refusal to bake a cake with a pro-gay marriage slogan.
Ashers Baking Company said it had declined the request because it was "at odds" with its beliefs.
The Rainbow Project said a solution could have been found to the dispute.
John O'Doherty, director of the project, said: "The Equality Commission asked for an apology, they asked for recognition that it wouldn't happen again.
"There's going to be a court case around this, and this is going to get a lot more public attention and the discussions that are going to be held are going to be 'us versus them' and we have already seen that quite a lot.
'Unlawfully'
"The reality is that we need to address the very serious issues that exist within our society around discrimination."
The Equality Commission supported the customer's claim for compensation, but lawyers for the County Antrim firm do not accept the bakery owners acted unlawfully.
In a statement on Wednesday, the commission said it is to begin civil proceedings.
The row hit the headlines in July, when the baking company revealed it was facing possible legal action over its decision to decline the customer's request.
The cake had been ordered in Belfast by a gay activist two months earlier, for a civic event in Bangor, County Down, marking International Day Against Homophobia and Transphobia.
At the time, the firm's 24-year-old general manager, Daniel McArthur, said marriage in Northern Ireland "still is defined as being a union between one man and one woman" and said his company was taking "a stand".
In a video posted on social media Mr McArthur, said: "We feel that the Equality Commission are pursuing us because of our belief that marriage is between a man and a woman."
The commission said it would have preferred not to start legal action.
In recent correspondence with the firm, the Equality Commission warned Ashers Baking Company that it could face a sexual orientation discrimination court case.
In a new letter sent to the bakery last week, the watchdog said that unless the firm acknowledged there had been a breach in the equality laws and offered recompense, it would start legal proceedings.