Marion Millican: Fred McClenaghan guilty of murder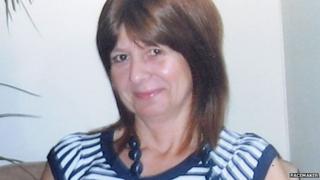 A 52-year-old County Londonderry man has been found guilty of murdering his ex-girlfriend.
Fred McClenaghan, of Broad Street, Magherafelt, was convicted of killing Marion Millican at the laundrette where she worked in Portstewart.
It was the second time McClenaghan has been convicted of murdering the mother-of four in March 2011.
His original conviction was quashed on a technicality and a retrial was ordered.
McClenaghan had claimed he intended to take his own life in front of her but that his antique double-barrelled shotgun went off accidentally during a struggle.
The trial heard their relationship was characterised by violence.
On one occasion, McClenaghan knocked her unconscious and on another he tried to strangle her, the court was told.
Mrs Millican's friend and colleague, Pamela Henry, who was at the laundrette when McClenaghan arrived, described him as "a madman who meant business".
Mrs Millican had begun a relationship with McClenaghan after splitting from her husband in September 2009.
However, she ended the new relationship in December 2010, and was in the process of a reconciliation with her husband, just months before she was shot dead.
McClenaghan killed her on 11 March 2011, after confronting her as she sat in work having lunch with a friend.
---
Timeline of events
11 March 2011: Mrs Millican is shot dead in the Portstewart laundrette where she worked.
3 July 2012: McClenaghan found guilty at Antrim Crown Court of murdering Mrs Millican.
21 September 2012: McClenaghan is sentenced to 16 years in jail. The victim's daughter, Suzanne Davis, describes the sentence as "very lenient, especially for such a violent crime".
29 January 2014: McClenaghan's conviction for murder is quashed. The accused is told he faces a retrial.
16 September 2014: Retrial gets under way as jury is sworn in. Prosecution rejects McClenaghan's guilty plea to manslaughter and pursues the charge of murder.
29 September 2014: Judge Mr Justice Treacy dismisses jury in the retrial because some jurors left the precinct of the court at lunchtime to get chips. A new jury is sworn in and the retrial begins again.
5 November 2014: Jury finds McClenaghan guilty of murder