Union flag march: Numbers restricted for anniversary protest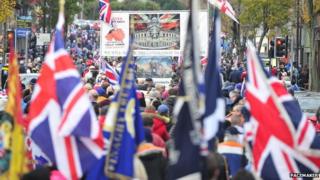 A planned march to mark the second anniversary of the controversial vote on flying the union flag at Belfast City Hall has been restricted.
In December 2012, Belfast City Council voted to limit the flying of the flag at the building to designated days.
A protest march, due to take place later this month, has been organised by a group called Loyal People's Protest.
It notified the Parades Commission that 6,000 people would take part, but the commission restricted numbers to 500.
'Commercial interests'
The protest march is due to pass through Belfast's main shopping district on the afternoon of Saturday, 29 November.
The Parades Commission has also ruled that the parade must be clear of Belfast City Hall by 14:15 GMT, and must also have passed the Royal Avenue/North Street junction by 14:35 GMT.
In is determination, the commission said it had taken traders' concerns into account.
The determination document states that organisers have "held several parades commencing at Belfast City Hall" over the past two years.
It noted that the parades have been organised on Saturday afternoons, with advance notice of "several thousand participants".
"The commission has received information that the notification of such large scale parades on Saturday afternoons has caused concerns amongst bodies representing commercial interests in the city," the commission's document said.
"These representatives have expressed the view that, regardless of the actual numbers which do eventually participate in these parades, the advance notification of thousands of participants heightens tensions and discourages shoppers and others coming into the city centre," it added.
The Loyal People's Protest told the commission that the reason for the demonstration was: "the removal of our union flag, political policing and the lack of leadership shown by the Stormont executive".
The vote taken by Belfast City Council on 3 December 2012 led to a widespread loyalist campaign of street protests.