Warning over Londonderry drugs gang's 'arsenal'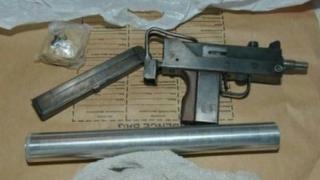 A detective who led an investigation into a Londonderry drugs gang has issued a warning about such gangs' potential for violence.
Det Insp Tom McClure was speaking after two men were jailed for offences linked to the seizure of drugs and munitions in the city two years ago.
As part of the investigation weapons, including a sub-machine gun, handguns and two military grenades were seized.
Det Insp McClure described the "small arsenal" as worrying.
"These items which we recovered at Hawkin Street [in Londonderry] are worrying," he said.
"They show a potential to cause serious injury or death, over and above the obvious harm posed by drugs. Thankfully, we have removed them before they can cause any damage.
"But there are worrying similarities to the violent paraphernalia associated with drugs gangs in large inner cities in Britain and Ireland where drugs are peddled for profit but cause nothing but destruction and where violence or the threat of violence are used to enforce these activities."
The weapons, as well as silencers, an electric stun device, a CS gas canister and £20,000 worth of ecstasy and methedrone, were found during a search of a flat at Hawkin Street in December 2012 that was linked to 30-year-old Gary McPhillips and Ryan O'Reilly, 28.
On Wednesday, McPhillips, of Hawkin Street, was jailed for eight years, four of which will be served on licence, and O'Reilly, of Meadowbank Court, was sentenced to two years.
A judge said the two grenades recovered by the police officers were of a similar type to those used by Dale Cregan when he murdered two women police officers in Manchester in 2012.
"This shows just how lethal these grenades could be," the judge said.
"The firearms were all found to be in usable order. They represent considerable danger to the law-abiding citizens in this city.
"To hold or to warehouse such weapons is an act of complete recklessness having little regard to the safety of anyone."
The search at Hawkin Street, was part of a follow-up investigation into the seizure of £800,000 worth of cannabis in the Glengalliagh area of Derry in May 2012.
One man, Mark McPhillips, was later jailed for seven years and stripped of all his assets after he was caught driving a van loaded with kitchen units containing the drugs.