DUP attends round-table talks at Stormont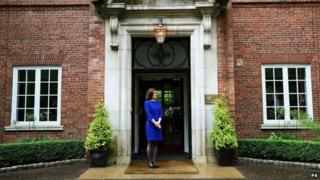 The DUP has attended a round-table session of the Stormont talks alongside the British and Irish governments.
The meeting was convened to review progress in the talks and agree an agenda for the next few weeks.
The TUV criticised the DUP, claiming their attendance was a climbdown on their previous refusal to attend the opening session of the talks.
The DUP said the meeting on Wednesday did not involve any negotiations with the Irish government.
It is understood the DUP was represented by ministers Arlene Foster and Simon Hamilton, who were joined near the end by the first minister and party leader Peter Robinson, who had another engagement earlier.
Sinn Féin MP Conor Murphy said: "If there was one sense at the meeting this morning it was the hope that we are actually now into a serious and credible talks process and one which will intensify efforts between now and Christmas to try to address and find some resolution to these issues."
SDLP leader Alasdair McDonnell said he had found the meeting "useful".
'Limited time'
"We were all round the table," he said.
"We made the very simple point that number one, we wanted a serious intensification of the whole process, a speeding up of the process - we now have very limited time between now and Christmas and there are so many issues there to deal with."
One-on-one meetings between some of the parties and both governments will be held later.
The talks on Wednesday are also being attended by Irish Foreign Minister Charlie Flanagan.
The meeting was convened by Secretary of State Theresa Villiers to review progress and set out a programme for talks for the coming weeks.
Mr Flanagan will also meet each of the executive parties.
The talks, which began last month, are focusing on a number of issues, including flags, parades and the past.
Last month, Mr Flanagan said unionists had nothing to fear from the Irish government's involvement in the discussions.
His reassurance followed calls from leading unionists that there should be no Irish involvement in the internal affairs of Northern Ireland.
Mr Flanagan said the Irish government would be there to assist and support.
Plans to hold a fresh round of inter-party talks were announced by Ms Villiers in September.