Maíria Cahill: Sinn Féin's Jennifer McCann 'should resign' says DUP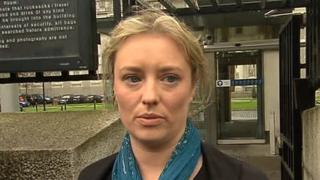 A Sinn Féin junior minister should step down because she failed to report abuse claims made by Belfast woman Maíria Cahill, the DUP has said.
Paula Bradley, DUP, said Jennifer McCann should consider her position, alleging she knew of abuse claims made by Ms Cahill, but did nothing.
The remarks were made in the Stormont assembly as members debated a motion related to a BBC Spotlight programme.
But Ms McCann said: "There was no improper conduct in my actions."
She added: "I would not cover up or protect anyone who has been accused of rape or sexual abuse."
Ms Cahill told the BBC's Spotlight programme last month that she had been raped by alleged IRA member Martin Morris in 1997, when she was 16.
Ms Cahill further claimed that the IRA had subjected her to an internal inquiry in 1999 that culminated in her being forced to face her alleged abuser.
She later went to the police, and a case was brought against Mr Morris, who denied the allegation.
All charges were dropped and Mr Morris was acquitted after Ms Cahill withdrew her evidence.
On Tuesday night, Ms Bradley said it would be a conflict of interest for Ms McCann to remain in her post.
'Disgraceful motion'
"Maíria Cahill has alleged that she informed the Irish Republican Army and members of Sinn Féin of her ordeal. Jennifer McCann by her own admission was informed of Maíria's case in 2005," said Ms Bradley.
She added: "Ms McCann, I am sad to say, failed Maíria. She failed to properly support her, to tell the relevant people of the allegations of the abuse, and she failed herself to report the allegations in order to ensure that they could be investigated."
Ms Bradley said that Ms McCann's position was "now untenable" as she has responsibilities for policy relating to historical institutional abuse and young people.
Ms McCann told the chamber: "I feel very strongly that my credibility, not only as junior minister, but also in a personal sense as a woman and, particularly as a mother, is under attack through this disgraceful motion, and what members in this chamber have said, both during this debate, and over the past few weeks.
"I want to totally refute any inference in either the motion, or what has been said, that I did anything improper in the actions I took in relation to this case."
She told the assembly that "at no time" did Ms Cahill "indicate to me that she wanted me to report this".
Deputy First Minister Martin McGuinness said it was a "wholly unjustified and unfounded" attack on Ms McCann, adding that Ms McCann was "one of the most capable members of the assembly".
He also accused the DUP and the SDLP of politicising the issue of sex abuse in a "most crass and self-serving" way.
Earlier, a woman alleged to have been involved in a IRA kangaroo court about Ms Cahill's claim she was raped released two letters.
Briege Wright was one of four people said to have been involved in the IRA inquiry.
All the charges were dropped in May after Ms Cahill withdrew her support for a criminal prosecution.
Ms Wright said the letters showed she tried to help and support Ms Cahill.
All of those said to have been involved in the IRA investigation denied the allegations and all were acquitted when Ms Cahill withdrew her evidence.
Ms Cahill later described the release of the letters as a "grotesque" treatment of a victim of sex abuse.