Maíria Cahill: Briege Wright says letters show she tried to help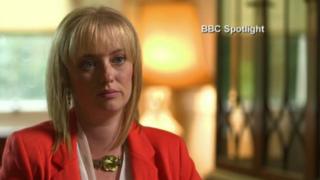 A woman alleged to have been involved in an IRA kangaroo court about Maíria Cahill's claim she was raped has released two letters.
Briege Wright was one of four people said to have been involved in an IRA inquiry.
All the charges were dropped in May after Ms Cahill withdrew her support for a criminal prosecution.
Ms Wright said the letters showed she tried to help and support Ms Cahill.
Maíria Cahill told the BBC's Spotlight programme last month that she had been raped by alleged IRA member Martin Morris in 1997, when she was 16.
Ms Cahill further claimed that the IRA had subjected her to an internal inquiry in 1999 that culminated in her being forced to face her alleged abuser.
She later went to the police, and a case was brought against Mr Morris, who denied the allegation.
All charges were dropped and Mr Morris was acquitted after Ms Cahill withdrew her evidence.
All of those said to have been involved in the IRA investigation denied the allegations and all were acquitted when Ms Cahill withdrew her evidence.
In a statement released through her solicitor on Tuesday, Ms Wright said: "Due to the fact that Maíria Cahill refused to stand over her allegations against me in court where she would have been challenged, I feel that I have to release two significant letters that she sent me in 2005 and in 2008.
"My legal team would have questioned her about these letters had there been a trial."
The statement added that there had been a "deluge of inaccurate, prejudiced and selective reporting of all aspects of this case", particularly in relation to Ms Wright's relationship with Ms Cahill in "terms of the support that I offered her".
"My intent was to try to help Máiría. I believe that these letters demonstrate that Máiría accepted and valued that support," Ms Wright said.
"The letters have been slightly redacted due to personal information that relates to others, including Máirías' family."
Ms Cahill later described the release of the letters as a "grotesque" treatment of a victim of sex abuse.
She said one letter had been written within a week of her leaving a psychiatric unit. Ms Cahill claimed that viewed in context the letters corroborated her account.