John O'Dowd says Irish-medium school places will increase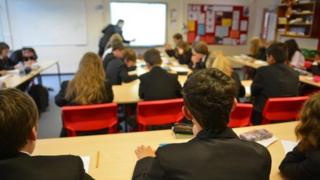 Education Minister John O'Dowd has accepted a series of recommendations to increase Irish-medium places in secondary schools.
There are 29 Irish-medium schools in Northern Ireland but only one of them is post-primary.
Another three schools have set up units that teach some subjects through Irish.
There are 60 vacant places in the stand-alone secondary school and 952 in the 28 primary schools, according to Department of Education figures.
The number of pupils being taught through Irish has almost doubled in the last 10 years to just under 5,000 - 830 are in secondary education.
A ministerial advisory group has found there is a demand for Irish-medium secondary education and while three-quarters of parents who send their children to Irish-medium primary schools would prefer a stand-alone secondary school, many would be happy with a school that teaches partially through Irish.
The advisory group report has called for a planned approach to the growth of the sector, including where any new secondary schools should be located.
It also said parents need to be reassured there are enough Irish speaking teachers for specialist subjects, such as the sciences.
Mr O'Dowd acknowledged the current financial problems facing the Northern Ireland Executive would have to be taken into account when planning new school places.