On The Runs: Lord Mandelson says Sinn Féin wanted 'political magic wand'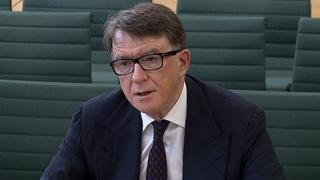 Former Northern Ireland Secretary Peter Mandelson has said Sinn Féin seemed to want the issue of On the Runs dealt with though a "political magic wand".
He was giving evidence to MPs investigating the On The Runs letters.
Lord Mandelson, who was secretary of state from 1999-2001, said he believed at the time that only new legislation could deal with the issue.
However, he said he did not think the peace process was strong enough at the time and legislation would have failed.
Lord Mandelson is appearing before the Northern Ireland Affairs Select Committee at Westminster.
The committee is looking at how more than 200 people were told they were not wanted for paramilitary crimes committed before the Good Friday Agreement.
On The Runs are those suspected of, but not convicted of, paramilitary offences.
"I think Sinn Féin's preference was for it to be resolved and dealt with by some means of a political magic wand, secretly if need be," Lord Mandelson said.
"I did not see how without legislation you could, or indeed should, manipulate the legal system, risk bringing it into disrepute by simply handing out some sort of get out of jail free card and a free pardon.
"If you start in sort of a makeshift, ad hoc, way start to rewrite important and sensitive pieces of the Good Friday Agreement, you would be taking quite a risk.
"Perhaps in 2005 the peace process was in a stronger and less fragile state than it was in '99 and 2000."
He added: "I was not in the business of sending secret side letters to one side of the Good Friday Agreement or the other, making promises that went beyond the terms of the Good Friday Agreement, which if they had become known would have greatly disappointed others and destabilised the process.
"I was not that sort of secretary of state."
He said he knew of two letters being sent to "individuals" in the middle of the year 2000, adding: "I knew of those, I did not disagree with them being sent, but nor did I sign them."
'Marked my card'
He told the committee that, for him, the issue of On the Runs started the day he was appointed secretary of state, in 1999 and concerned one individual - Sinn Féin's Rita O'Hare.
"Mo Mowlam [his predecessor], as we exchanged roles, marked my card very strongly on this saying that in her view it was essential that a solution be found for Rita O'Hare," he said.
"It eventually became impossible to extract this individual's case from the wider issue and treatment of OTRs.
"Then, during the year 2000, a list of OTRs who Sinn Féin wanted a solution for was supplied to me by Number 10 and I think this list subsequently grew during the year."
'Neither sensible nor viable'
He said the attorney general had personally made it clear him that without legislation there was no legal way round the issue.
"Given that the issue of an amnesty had not entered or been agreed in the Good Friday Agreement, it would have been impossible, in my view, to introduce such legislation so soon after the agreement's original signing.
"I advised the prime minister that in my view it was neither sensible nor viable for us to introduce amnesty legislation in 2000," he said.
"I believe that it would have outraged public opinion, not just in Northern Ireland, it would have destabilised the peace process and I believe brought down the fragile devolved institutions."
The scheme became the focus of controversy after the collapse of a case against John Downey in February for the 1982 Hyde Park bombing.
The judge dismissed the case after it emerged Mr Downey had a letter from government officials mistakenly telling him he was not wanted by any UK police force. It emerged during the case that several hundred similar letters had been issued.