Ann Travers closing social media accounts after abuse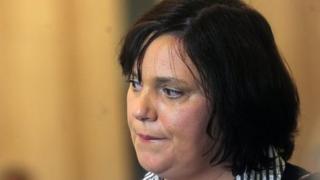 The sister of an IRA murder victim is closing down her Facebook and Twitter accounts due to constant online abuse.
Ann Travers sister, Mary, was murdered in Belfast in 1984. The target of the ambush was their father, Tom, a resident magistrate. He survived.
Ms Travers, who became a victims' campaigner, set up her social media accounts three years ago.
But she said she had been subjected to abuse during the day and at night on Facebook and Twitter.
"When you start to look at your phone with fear, that's whenever you know that enough's enough," she told the BBC.
Ms Travers had expressed outrage after a woman who was convicted of her sister's murder, was appointed as an adviser to a Sinn Féin minister in 2011.
Mary McArdle, who was part of the IRA gang that ambushed the family, was appointed as a special adviser to Culture Minister Carál Ní Chuilín.
Ms Travers said it was after this appointment, that she began tweeting.
However, she said over the past few weeks she had "seen not only murder justified, but also rape and sexual abuse. I've just had enough of it".
"Being on Twitter is like sitting in a room and having complete strangers shout at you incessantly without stopping," she said.
"It can carry on throughout the day, throughout the night - you can be woken up by your phone pinging and even if you switch the phone off, it's still there in the morning.
"You come to dread looking to check your notifications, to see what's being said about you.
"And although you block these people, they still continue to abuse you even though you can't see it, but other people then get tagged into the conversation who you haven't blocked so it keeps on coming up on your timeline and of course, you look because you are scared."
She said she had made good friends via social media, but there were also those who "cannot respect a different view and who cannot acknowledge the hurt that victims feel".
She denied that closing her accounts would meant the internet trolls had won.
"I'll still keep on speaking up for victims of terrorism, I'll still speak up with hope that some day there will be an acknowledgement and no justification of any murder, any murder," she said.
"But I'm not going to allow myself to be abused anymore."