Translink costing of Coleraine to Londonderry rail project 'a guess'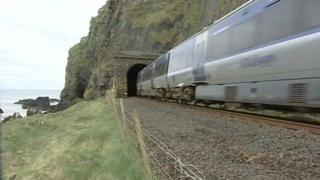 Translink's costing for a rail project that has doubled in price was "frankly little more than a guesstimate", assembly members have been told.
The second phase of the Coleraine to Londonderry rail project was originally estimated at £20m to £22m, but has risen to an estimated £40m.
The work would install new signalling and create a passing loop for trains.
Regional Development Minister Danny Kennedy said Translink had used figures that were "not based on fact".
The minister outlined the findings of a review into Translink's handling of the project.
"Translink has had custodianship of a key Programme for Government commitment and has singularly failed to discharge it effectively," he said.
The work will now have to go out for retendering.
'Slap in the face'
Last year, it was announced that the second stage of the upgrade was to be delayed for a further year because Translink was having difficulty finding the right supplier for signalling equipment.
The SDLP's John Dallatt described the latest setback as "devastating".
"This is another slap in the face for the north west which has suffered so many setbacks in the development of road and rail transport infrastructure," he said.
"This announcement is particularly frustrating that it is the second time this contract has been botched by Translink who are clearly not fit to lead a proposal to develop the infrastructure for an intercity rail service.
"The minister needs to seriously consider if Translink has the expertise or the commitment to be handling tendering processes of this nature."