Immigration benefits Northern Ireland, says report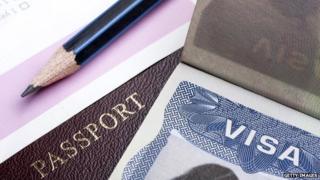 Immigration provides substantial economic and social benefits to Northern Ireland, a report has said.
The report, written by two academics from Queen's University, said about 4% of the Northern Ireland workforce is made up of migrant workers.
Commissioned by the Centre for Democracy and Peace Building, it suggested migrants contribute more in tax than they use in services.
It claimed migrants contributed £1.2bn to the economy from 2004 to 2008.
The report was written by Professor Peter Shirlow and Dr Richard Montague at Queen's University Belfast, and its findings claim to challenge commonly held misconceptions about migrants.
It examined a number of areas like population, employment, housing, benefits, economy, healthcare, education, crime and social cohesion.
The report said migration contributed to sustaining economic growth, filling labour shortages, bringing much needed skills and enriching society through cultural diversity.
Its key findings were:
Migrant workers contributed about £1.2bn to the economy from 2004 to 2008
4% of the Northern Ireland workforce is made up of migrant workers
3% of the total number of pupils attending school in Northern Ireland are ethnic minorities
81.5% of migrants in the UK are employed
Less than 5% of EU migrants claim Jobseekers Allowance
The cost of temporary migrants using the health service amounted to about £12m of the £109bn NHS budget
Chairman of the Centre for Democracy and Peace Building, Lord Alderdice, said the report was commissioned in response to a number of race hate attacks in recent months.
"The Centre for Peace Building and Democracy was keen to commission a piece of work that would look seriously at the migrant population in Northern Ireland and demonstrate how much migrants contribute to our society," he said.
"The report highlights contributions in tax, skills, labour and cultural diversity - enriching our society rather than threatening it."
Belfast Lord Mayor Nichola Mallon said: "Tackling racism continues to be a priority for Belfast City Council and is a priority which received all-party political support.
"The report provides a strong evidence base for Belfast as a city to be able to champion the positive social and economic benefits of diversity and to continue to promote Belfast as a welcoming city."
Professor Shirlow said: "The report and its findings are profoundly important because they completely rebut the stereotypes that have plagued our migrant population in recent years.
"People need to be educated about the facts.
"We frequently hear claims that migrants take our jobs and use up our limited services. Migrants pose no threat to our society. This report will hopefully go some way towards changing the conversation about migrants in Northern Ireland."