Welfare reform: Simon Hamilton hopeful of NI resolution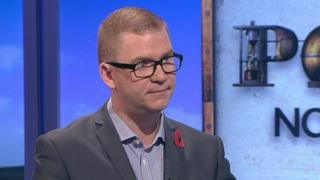 Northern Ireland's finance minister has said he believes a solution can be found to the political deadlock at the assembly over welfare reform.
Simon Hamilton, from the DUP, told the BBC's Sunday Politics programme he hoped the current inter-party talks would resolve the issue.
Sinn Féin oppose the reform measures, that have been brought elsewhere in the UK but not in Northern Ireland.
Mr Hamilton was speaking ahead of Monday's debate on the draft budget.
'Totally unacceptable'
The finance minister told the programme: "We have set aside £70m for a package of measures which will ameliorate the worst effects of welfare reform in Northern Ireland
"We think that is the best option for moving forward, so that we can continue to have welfare payments here in Northern Ireland, but we don't have in the negative way that it's been impacting on people in Great Britain."
Mr Hamilton added: "We're very keen to work on it in the talks process, and we think that there is a solution that can be found."
Speaking on the same programme, Sinn Féin minister John O'Dowd said the current welfare reform bill was "totally unacceptable" to his party.
"A new bill, brought to the floor of the assembly, is open to amendments, it is open to persuasion," Mr O'Dowd said.
"There is a role here also to play for civic society - the trade unions, the business sector and all - in relation to how we format our own welfare system.
"So, if a bill comes on the floor of the assembly, we will play our part in reshaping that bill," the education minister added.