Northern Ireland library opening hours: Temporary changes begin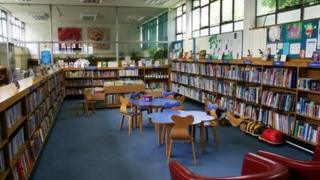 Temporary changes to library opening hours across Northern Ireland, as a result of budget cuts, will come into effect later.
Opening hours in a number of libraries will be reduced or operate with a different pattern from Monday.
It is one of the measures implemented to make £1.4m of savings by March 2015, as a result of a 4.4% cut in the Libraries NI budget.
Libraries NI said staffing levels have been reviewed to minimise disruption.
"Reduced opening hours will be very difficult for our customers and our staff and we deeply regret having to take this course of action," said chief executive Irene Knox.
"The impact of these changes cannot be minimised as many in society now rely on the wi-fi access, new computer equipment and faster broadband connections available in all libraries.
"I am grateful to all of the staff in Libraries NI who have worked together in a very positive manner over the last month to reorganise their rotas to facilitate these revised opening hours.
"This is a difficult time for everyone involved, but I know that library staff will continue to do everything that they can to provide high quality services for our customers."