Halloween fire incidents in Northern Ireland drop by 18%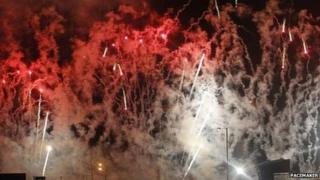 The Northern Ireland Fire and Rescue Service has reported an 18% decrease in Halloween incidents compared to last year.
The service said it received 141 calls and attended 102 incidents across Northern Ireland - the lowest figure on record for 31 October.
The majority of the incidents (45%) were located in the Southern Command Area.
Most involved rubbish, bonfires and calls where tyres had been set alight.
Meanwhile, in a separate development, police have confirmed that they made 12 arrests in Londonderry following Halloween celebrations on Friday.
This compares with 17 arrests in Derry last year and 21 in 2012.