Edward Gibson: Police revisit scene of west Belfast murder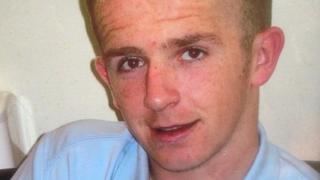 Police investigating the murder of a man in west Belfast have revisited the scene of the shooting.
Edward Gibson, 28, was shot in his stomach and thigh in an alley near Divis Tower on 24 October. He died in hospital.
Police returned to the area to speak to "potential new witnesses".
Detectives have specifically appealed to anyone who saw two cars in the Clonfadden Crescent or Divis Street area on the evening of the attack.
Det Chief Insp Justyn Galloway said: "I want to talk to anyone with information about these two cars, a silver Peugeot 207, registration number JFZ 6762 and a black Peugeot 3008, registration number PFZ 5158.
"If you saw them last Friday teatime, know of their whereabouts during that day or who was in the cars, then we want to hear from you," he added.