Semtex explosives charges withdrawn against Thomas Hughes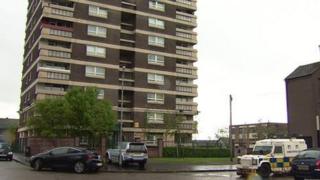 Charges have been dropped against a man in connection with the largest seizure of Semtex explosive in Northern Ireland in the last 10 years.
Thomas Hughes, 47, from Maeve House, north Belfast, had been charged with having 2.5 kg of the explosive with intent to endanger life.
A detective told a previous hearing the Semtex was found inside the airing cupboard of his flat.
The Public Prosecution Service said it was withdrawing the charges on Friday.
In a statement, the PPS said: "All of the evidence obtained in the course of the police investigation, including the forensic evidence, was carefully considered and it was concluded that there was no reasonable prospect of a conviction and therefore the test for prosecution was not met."
During a previous court hearing in May, Mr Hughes was described as someone who came from a republican background, but was a strong supporter of the peace process and was vehemently against any dissident republican activity.
The court heard he lived at his partner's address and others had access to the flat.
At the time, security sources told the BBC they believed that the amount of explosives found could have been used to make up to 20 under-car booby trap bombs.