Six Mile Water fish kill: Almost 1,000 fish confirmed dead in 'major' pollution incident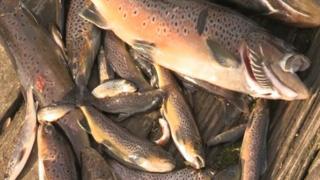 Almost 1,000 fish have been confirmed dead in a water pollution incident in County Antrim and investigators have declared it as a "major fish kill".
The incident in the Six Mile Water, near Ballyclare, was discovered on Wednesday, when anglers found dozens of dead fish in the water.
Fisheries staff have confirmed the number of dead fish now stands at 964.
The Department of Environment said "this water pollution incident is now classified as being of high severity".
A spokesperson for the department added: "Investigations are ongoing in an effort to determine the cause."
The fish kill was reported to the Northern Ireland Environment Agency (NIEA) on Wednesday morning.
The information came to the agency via its water pollution hotline.
A NIEA water quality inspector was immediately sent to the scene to investigate and assess the environmental impact.
Staff from the Department for Culture Arts and Leisure (DCAL)'s Inland Fisheries Group were also called to the site to assess the number of fish affected.
In a statement on Thursday, Environment Minister Mark H Durkan said: "I am concerned about this.
"I will be monitoring developments here closely along with my NIEA officials."
In 2011, hundreds of fish were found dead in the Six Mile Water river.