Peter Robinson wants 'encouragement but not direct involvement' from US in NI talks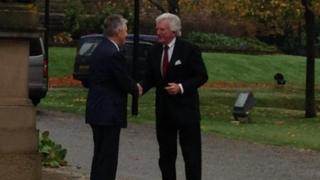 Northern Ireland's first minister said he wants "encouragement but not direct involvement from the United States" during inter-party talks in Belfast.
Peter Robinson was speaking after his first meeting with the American envoy to the talks, former US senator Gary Hart.
Mr Hart is in Belfast to assist the latest attempt to deal with outstanding political issues, including flags, parades and the legacy of the Troubles.
Mr Robinson and Mr Hart also met Irish foreign minister Charlie Flanagan.
The first minister, who leads the Democratic Unionist Party (DUP) said his discussions with Mr Flanagan addressed the issue of the Republic of Ireland's role in the talks.
Mr Robinson said: "I see that as being helpful when we're dealing with issues relating to north-south matters and we will be happy to engage, in terms of bi-laterals, with the Irish Republic on those matters.
However, he added: "When we are dealing with matters relating to Northern Ireland directly, then it has to be the United Kingdom government and the Northern Ireland parties that are involved."
Appointed by US secretary of state John Kerry, Mr Hart will also try to assist with the issue of welfare reform, which Mr Robinson warned still had the potential to bring down Northern Ireland's devolved government.
Mr Robinson said: "In terms of the meeting with Senator Hart, we covered the talks process, our view of the progress that is being made, the issues that need to be covered, and of course, we look for encouragement but not direct involvement from the United States, in terms of moving forward."
On Wednesday, Mr Hart met Sinn Féin, the SDLP, the UUP and the Alliance Party,.
After meeting with the US envoy on Thursday morning, Mr Flanagan said he would "play an important role in the talks process".
"Senator Hart is a man of great experience and ability and I am confident that along with the British and Irish governments, he will play a very constructive role in helping to resolve the current political impasse and build an enduring peace and a reconciled society."
'Early stage'
Sinn Féin MLA Jennifer McCann said Wednesday's meeting with Mr Hart was "positive and constructive".
"US support and involvement has been of crucial importance at various stages in the development of the peace and political processes," she said.
SDLP leader Alasdair McDonnell said his party had a "good meeting" with Mr Hart.
Following his meeting with Mr Hart, the Ulster Unionist leader Mike Nesbitt said the inter-party talks were at a "very early stage", but that the UUP had spent a "pleasant hour" with the former US senator discussing "some of the issues".
Earlier, Mr Hart promised to "listen closely" in his first meetings in the new round of talks.