Simon Hamilton warns that executive may lose out on £30m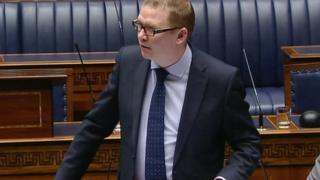 The finance minister has warned that the executive may have to hand back as much as £30m that was intended for infrastructure projects.
The money is known as Financial Transactions Capital (FTC).
It differs from normal capital spending and takes the form of a loan or investment in a private sector project.
However, a lack of suitable projects means that the budget is currently underspent by £35m.
Under Treasury rules only £6m can be carried over into next year.
Simon Hamilton said it was "disappointing" that no departments had made bids for the money in the June or October monitoring rounds.
He added that there was a risk that the money could be lost to Northern Ireland and has encouraged ministers to submit proposals "as soon as possible".
The FTC has been used to make a major loan to the University of Ulster for the redevelopment of its Belfast campus.
It has also been used for the Agri-Food Loans Scheme and affordable housing projects.
On Monday, Mr Hamilton proposed cuts of up to £872m to the executive's budget in a draft paper.
The 2015/16 budget proposals seen by the BBC suggest the executive will try to make better use of the FTC through a Northern Ireland Investment Fund.
The fund would lend money for projects in areas like energy, urban regeneration and telecoms.
The budget paper says the initial balance for the fund would come from £12m of unallocated FTC money.