Mairia Cahill case: Joan Burton says Sinn Féin must reveal sex abuser knowledge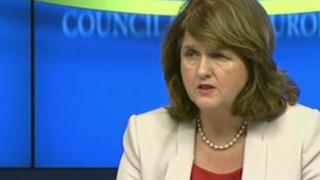 The Irish deputy prime minister has said that Sinn Féin must reveal if it has any knowledge of sex abusers who were moved to the Republic of Ireland.
Tanaiste Joan Burton said it "won't wash" for Sinn Féin to say it has no knowledge of sex offenders moved across the border from Northern Ireland.
It has been claimed that as many as 10 men were moved south after allegations of sexual abuse.
Ms Burton said the safety of children was paramount.
Speaking to the Irish Independent, she said: "Gerry Adams admits in his blog that the IRA expelled some alleged abusers, but doesn't say to where.
"This raises serious and urgent questions about whether the republican movement placed. or continues to place, children at harm in the Republic or elsewhere by effectively mimicking the actions of the church in moving alleged abusers around."
Homeless
Her comments came after Gerry Adams said that the case of Maíria Cahill had been unfairly politicised.
The Sinn Féin president said that the Ms Cahill had made serious allegations that had been "seized upon in the most cynical, calculated and opportunistic way by our political opponents".
Ms Cahill claims she was raped as a teenager by a suspected IRA member and said she was later interrogated by the IRA who covered up what happened.
Charges were dropped against those said to have been involved in the IRA inquiry and the alleged rapist was acquitted when Ms Cahill withdrew her evidence.
Meanwhile, Ms Cahill has said she is now homeless and in debt after leaving Northern Ireland following an "ongoing organised internet smear campaign".
It is believed she is now living in the Republic of Ireland.
In a statement she said that making her claims public had come "at great personal cost to myself".
She also denied claims that she was ever part of a dissident republican organisation.
"I reject all such groups root and branch and will swiftly take legal action should anyone wishing to allege or imply that I have any support for violence. I absolutely do not," she said.