Number of soldiers in Northern Ireland lowest since 1969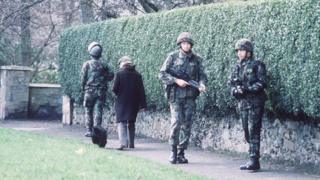 The number of soldiers based in Northern Ireland has fallen to its lowest level since the outbreak of the Troubles in 1969.
Figures from the Ministry of Defence reveal there are currently just over 1800 members of the armed forces based in seven locations.
At the height of the Troubles, there were 27,000 military personnel in Northern Ireland.
They were part of Operation Banner, the Army's support role for the police.
Operation Banner lasted 38 years, ending in July 2007.
Since then, soldiers based in Northern Ireland have been deployed to trouble spots across the world, and not the streets of Northern Ireland.
'Commitment'
When Operation Banner ended, the Ministry of Defence said that in future the number of military personnel in Northern Ireland would not exceed 5,000.
The current number is well under half of that total.
According to figures released by the MoD, there are 1,830 military personnel here.
The vast majority, 1,740, are members of the Army.
There are 80 with the Royal Air Force, and 10 with the Royal Navy.
An MoD spokesman said the decline in numbers did not suggest a decline in its commitment to Northern Ireland.
"It's quite the reverse," he said.
"The garrison here plays a vital role in military operations worldwide and will continue to do so."
The Ministry of Defence also employs 1,440 civilian staff in Northern Ireland.