Environment agency: River Enler pollution fines are 'significant'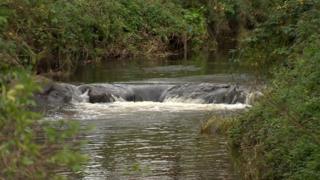 A County Down farmer has been fined £6,000 for three separate pollution offences on the River Enler in Comber.
In one incident, an estimated 5,000 fish were killed in summer 2013.
Mr Robert Martin Hamilton of Ballyrainey Road, Comber, was fined after Northern Ireland Environment Agency (NIEA) inspectors traced the source of that pollution to his farm.
A discharge of vegetable processing waste water was observed flowing across a field and into the adjacent waterway.
At the time, Mr Hamilton spoke to the BBC and admitted responsibility. He also apologised for what he described as "this mess".
However, during a court hearing earlier this month, Mr Hamilton was also fined a further £2,000 for each of two subsequent incidents of pollution on the same river.
One incident occurred in December 2013, the other in March 2014.
Kevin McGrady of the Northern Ireland environment agency said: "I think it sends out a message to anyone who is a polluter, that the fines will be significant.
"It's not just the fines, there's a criminal conviction that goes with this. That restricts people's movements and so on as well, so there's ramifications there and it's a significant penalty"