Francis Tiernan from Forkhill, County Armagh, jailed over £1m will fraud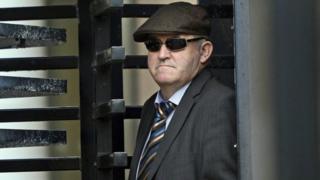 A County Armagh farmer who tried to use a forged will to inherit most of a £1m estate from an elderly woman has been sentenced to three years in prison.
Francis Tiernan, 54, pleaded guilty to being part of a conspiracy described in court as "like a Hollywood script".
In December 2004, Catherine 'Kitty' Haughey was found dead in her flat above the Forkhill pub she owned.
Concerns arose about her will after it emerged it had been changed two weeks before her death.
Tiernan, from Carrickasticken Road in Forkhill, was Ms Haughey's godson and had received £1,000 as part of the first will.
The new will gave Tiernan a house, known as Annie Murphy's Cottage, Ms Haughey's pub, Larkin's - which alone was valued at £500,000 - and substantial amounts of cash in the deceased's bank accounts.
He originally denied involvement in forging the fake replacement, but changed his plea earlier this month having been extradited from the Republic of Ireland.
Tiernan had tried to argue that he was motivated by a desire to reflect the wishes of his godmother.
Dying wishes
However, when passing sentence, the judge said his crimes had been "founded in greed and deceit" with "a multiplicity of victims".
The judge contrasted this with the actions of Kitty Haughey's closest friend, Alice Quinn.
She, he said, was motivated by a commitment to seeing her friend's dying wishes realised and not by any sense of personal gain.
She was the first to suspect something was wrong and she contacted the police.
The judge criticised Tiernan for absconding when it looked as if justice was starting to catch up with him, saying he had "fought tooth and nail; fought all the way to the door of the supreme court in Dublin" before giving up his challenge against extradition proceedings, surrendering himself to a court in Northern Ireland and pleading guilty.
Tiernan showed no reaction when the sentence was handed down, except to reach from the dock to take an overnight bag from a young woman in the public gallery.
A GP and a surveyor had already pleaded guilty to drafting and witnessing the fake document and they were both given suspended sentences earlier this month.
Garda collusion
Francis Tiernan was well known in the Armagh/ Louth border region.
His name featured prominently in the Smithwick tribunal into IRA/ Garda collusion in Dundalk.
It heard that he was abducted and beaten, along with former Garda Owen Corrigan in 1995.
The tribunal concluded that the two were abducted "because of a business transaction with the Provisional IRA which turned sour".
It also heard details of an Irish police report that alleged that Mr Tiernan had "been involved in Provisional IRA activities", though he has never been convicted of such.
The report noted that Mr Tiernan was believed to be involved in "large-scale smuggling" and was suspected of being involved in fraud in Northern Ireland, the Republic of Ireland and England.