Belfast robbery: Two caught washing dyed cash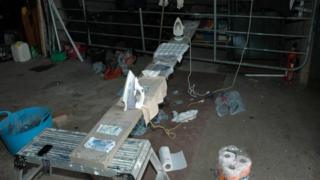 Two men have received prison sentences for handling almost £10,000 in cash following a robbery of a cash-in-transit guard.
Terence McCafferty 46, of Carlisle Road, Belfast, was sentenced to 33 months.
George Martin Daniel McGrady, 53, Swanston Drive, Newtownabbey, County Antrim, was jailed for three years.
They had pleaded guilty in August to handling the cash after they were caught trying to wash dye out of it.
A charge of robbery was "left on the books and not to be proceeded without the leave of the crown Court or the Court of Appeal''
Belfast Crown Court heard that on 25 February 2013, a security guard who was collecting money from an off-licence on the Oldpark Road in north Belfast was robbed by a man armed with "a long-bladed knife".
The van was driven into nearby Prestwick Place and a resident later reported to police that a man had got out of the van and had cut open the box with a circular saw.
He was seen on CCTV leaving the scene and heading up an alleyway into Ballysillan Park.
The lawyer said that about four hours later, police air reconnaissance was despatched to the upper Crumlin Road/Ligoniel area.
He said police officers arrived at the scene and the two defendants were arrested in a barn.
"Inside the barn, police found the circular saw and a machete. There was a large quantity of cash in mixed denominations and there was a large builder's bucket containing red dye along with bleach," he said.
"It was clear they were trying to clean the dye out of the notes."
Police also found two makeshift ironing boards with two irons, both switched on.'
McGrady admitted that he had rented the barn, but denied all knowledge about the money found inside.
The court was told that McCafferty had previous convictions for theft, hijacking, going equipped for theft and making a hoax bomb call.
He was also jailed for 12 years in 2005 after he was convicted of leaving a bomb outside a vehicle licensing office in Belfast city centre.
McGrady's criminal record was described by the judge as "more extensive'' with a robbery conviction dating back to 1980.
The judge told the defendants that they had been both caught "literally red handed at the scene'' describing the robbery of the cash box as a "serious offence''.
She said there was no evidence they were the "primary movers in the robbery'', and they had no knowledge about the robbery until after it had taken place.
"It is clear that you were significantly involved after the robbery. Your involvement was making good the notes and I regard that as an aggravating feature. You had the material to clean these notes and also to iron them," she said.'
She said both defendants would serve half their sentences in custody and half on supervised licence on release.
With time served on remand, McCafferty is expected to be freed from prison at the weekend.
Afterwards, Det Supt Kevin Geddes said: "Officers were able to respond quickly to this robbery, recover the cash and apprehend the offenders.
"The incidence of cash-in-transit robberies has reduced significantly in recent years.
"We are working with partners in the industry and law enforcement to make sure such attacks are not regarded by criminals as a licence to print, or in this case, wash money. The community is safer today as a result of these sentences."