Tamboran's Belcoo licence challenge 'cannot succeed'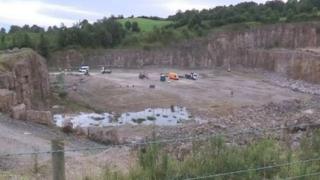 An expired licence to carry out exploratory shale gas drilling in Fermanagh cannot be reinstated through a legal challenge, a court has heard.
Counsel for Enterprise Minister Arlene Foster claimed action being taken against the termination of the permit could not succeed.
An Australian-based mining company is seeking to judicially review her decision not to grant an extension.
It had planned investigations at a former quarry site in Belcoo.
Tamboran has also issued proceedings against Environment Minister Mark H Durkan's determination that it must apply for full planning permission to carry out test drilling.
Fracking protests
Protests were staged at the site amid fears the controversial fracking technique would be used if large reserves of gas were found.
Hydraulic fracturing is the process of extracting natural gas from shale rock layers deep within the earth.
Tamboran had planned to drill a 750m deep borehole to establish whether any such process would be commercially viable.
Anti-fracking campaigners have expressed fears that this could be the first step towards establishing an industry that could damage the environment and the health of nearby residents.
Under the terms of a petroleum licence granted in 2011, Tamboran had three years to inform the Department of Enterprise, Trade and Investment (DETI) on its decision to drill or drop its plans.
Earlier this year the firm was given another six months to complete the first stage of work.
But no further extension was granted when that deadline passed at the end of last month.
Tamboran stated at the time that it had requested an extension of the deadline after informing DETI of its intention to take legal action, against Mr Durkan's rejection of a request to drill a borehole at the site.
The company said it has already invested more than £3m. It also claimed the decision not to grant more time could close the door on a project that could deliver up to 50 years of secure energy supply, in excess of 2,000 jobs and billions of much-needed investment in the local economy.
Its legal challenge to the two ministerial decisions was mentioned for the first time in the High Court on Friday.
During brief exchanges a barrister for DETI questioned the merits of the case against his client.
He contended that the licence has expired and cannot be restored, even by the court.
Detailed arguments are expected to be made when the case reaches a full hearing.
The judge listed the case for a further mention next month.