Conor Murphy 'unaware of exiled IRA sex abusers'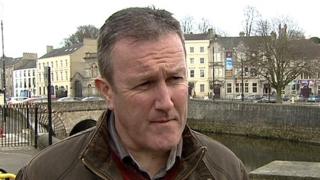 A Sinn Féin MP has said he has never heard of cases of alleged IRA sex abusers from Northern Ireland being sent to the Republic of Ireland.
On Wednesday, Irish Prime Minister Enda Kenny challenged Sinn Féin leader Gerry Adams on the issue.
Mr Kenny was speaking after meeting Belfast woman Maíria Cahill, who claims she was raped by a suspected IRA member and that republicans covered it up.
Sinn Féin's Conor Murphy has said he was unaware of republicans being moved.
"I've never heard that in all my life as a republican," he said.
"If people do have information, including the taoiseach [Irish prime minister] in relation to that, then, rather than speaking about it in public forums, they should be bringing that information to the appropriate authorities.
"They would have our full support in doing so, because if there is information in relation to that it must be investigated properly and dealt with properly."
Adams challenged
In the Irish parliament on Wednesday, the Irish prime minister compared the IRA's handling of abuse cases and moving suspected abusers to other jurisdictions with past practice in the Catholic Church.
He challenged Mr Adams to reveal if IRA members from Northern Ireland who were believed to have carried out abuse were sent to the Republic of Ireland.
"Are those people still here? Is this true? Do you know of any activities they are involved in now?" he said.
"These are the most serious matters for everybody. Sexual abuse was rampant in many sectors in Irish society, not alone in paramilitary organisations, but you have responsibility for this, but we need to know."
While he apologised to abuse victims he said were let down by the IRA during the Troubles, Mr Adams did not answer the question about exiled IRA members.
On Friday, the Irish News newspaper said it had learned of six cases of republicans who moved across the border after allegations of sex abuse.
Earlier this month, Ms Cahill waived her right to anonymity to speak to BBC Northern Ireland's Spotlight programme.
She said that in 1997, when she was 16, she was subjected to a 12-month cycle of sexual abuse, including rape, by a man who was believed to be a member of the IRA.
When Ms Cahill later raised the abuse allegations, she said the IRA questioned her repeatedly, often several nights a week, for months about them, before summoning her to a meeting with her alleged abuser in early 2000.