Sinn Féin: Maíria Cahill 'should meet with Gerry Adams' face-to-face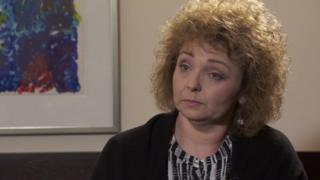 A Sinn Féin minister has said Maíria Cahill, the woman who claims she was raped as a teenager and later interrogated by the IRA, should meet with the party's leader Gerry Adams.
Carál Ní Chuilín was speaking on BBC Northern Ireland's The View programme on Thursday.
On Wednesday, Mr Adams apologised to sex abuse victims "let down" by the IRA during the Troubles.
However, Ms Cahill said his apology was "not enough".
Responding to Ms Cahill's request for a personal apology, Ms Ní Chuilín said: "I believe when Gerry made that apology (on Wednesday) he was speaking to Maíria.
'Full cooperation'
"If Maíria wants a personal apology, I think the best way for Maíria to receive that apology is to sit down with Gerry and do a meeting.
"If what Maíria Cahill is saying is the case - was it appropriate - I'm saying it wasn't. Was it wrong that it happened, it was absolutely wrong that it happened, and I can't be any clearer than that."
Ms Ní Chuilín also said the allegations of abuse and cover-up by the IRA needed to be fully investigated, even if it damaged the party.
Asked if she was happy for the truth to be put in the public domain, regardless of how damaging it could be, she said: "Absolutely."
Ms Ní Chuilín added she believed there should be "full cooperation" and that any information of use to the case should be brought forward to the appropriate authorities.
On Thursday, the deputy first minister, Sinn Féin's Martin McGuinness, said he believed Ms Cahill had been raped and said the target now had to be focussed on "the the alleged perpetrator of her rape".
First Minister Peter Robinson said Mr Adams should personally apologise to Ms Cahill.
On Wednesday, Ms Cahill met with the Irish Prime Minister Enda Kenny.
He described her as "a force to be reckoned with", and challenged Mr Adams in the Irish parliament to reveal if IRA members who were believed to have carried out abuse were exiled to the Republic of Ireland.
The Public Prosecution Service has said it will review three court cases linked to Ms Cahill's claims.
Charges were dropped against those said to have been involved in the IRA inquiry and the alleged rapist was acquitted.
Earlier this month, the Belfast woman waived her right to anonymity to speak to BBC Northern Ireland's Spotlight programme.
She said that in 1997, when she was 16, she was subjected to a 12-month cycle of sexual abuse, including rape, by a man who was believed to be a member of the IRA.
When Ms Cahill later raised the abuse allegations, she said the IRA questioned her repeatedly, often several nights a week, for months about them, before summoning her to a meeting with her alleged abuser in early 2000.
She later went to the police, and a case was brought against Martin Morris.
All charges were dropped and Mr Morris was acquitted after Ms Cahill withdrew her evidence.