University of Ulster: Possibility of more student flats for Belfast campus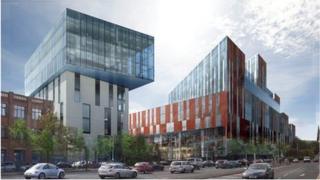 Two developers are considering submitting planning applications for another 1,000 student flats in Belfast city centre.
Plans have already been submitted by a number of firms seeking to develop accommodation next to the University of Ulster's new Belfast site.
The campus will serve about 12,000 students when it is fully operational in 2018.
A pre-application enquiry has been made about developing a site on York Street.
It was submitted to the Planning Service in regard to developing 489 units at the location.
'Pre-application enquiry'
A second enquiry has also been made about a 550-unit development on Great Patrick Street.
A pre-application enquiry is an informal process which will not necessarily lead to an application.
It allows a developer to get an assessment of whether there is a reasonable chance of getting permission for a scheme.
The York Street site is centred on the Phillip House office block.
The Great Patrick Street site has existing planning permission for 161 flats and 12 offices - this was from a 'boomtime' scheme called Sugar Walk, which was never developed.
Work has already begun on one student housing scheme close to the University - the conversion of Mark Royal House on Donegall Street.
Other applications have been submitted for College Square East, Glenalpin Street and York Street.
A large amount of student housing will also be included in the Northside regeneration scheme, although that is currently at the community consultation stage.