Gerry Anderson: Unseen episodes of On the Air being shown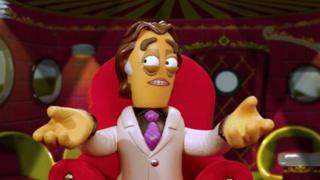 Five previously unseen episodes of On The Air are to be broadcast this week to showcase the wit and personality of the late Gerry Anderson.
The broadcaster died in August, aged 69, following a long illness.
Gerry Anderson started working as a radio presenter in 1984 and went on to become a household name in Northern Ireland.
The On the Air episodes are part of a week of programming across BBC Northern Ireland TV and radio celebrating and paying tribute to Gerry.
On The Air gave TV audiences the chance to experience the real, surreal and always entertaining conversations from Gerry's daily BBC Radio Ulster/Foyle show.
Using stop-motion claymation, CGI and animation, Gerry, his sidekick Sean Coyle and an assortment of real callers were brought together in a world where reality and animation collided.
Joel Simon, producer and director of On The Air and creative director of Flickerpix Animations, said the five unseen episodes were produced three years ago, and had almost been forgotten about.
"Watching them again, we realised that they contained some of the funniest scenes and dialogue in all three series," he said.
"It's a fitting tribute to the friend and master jester we all miss."
Mr Simon said it had been easy to convince Gerry to do On the Air, as he was a fan of animation.
"I was a bit concerned, initially, that he didn't want to be portrayed as a kind of chain-smoking, whiskey cocktail sipping broadcaster with an overinflated ego, because we played all that stuff up, that sort of persona," he said.
"But he was fine with that, as a matter of fact he kind of encouraged it."
He said the series was one of his favourite things he had worked on.
"I've been in animation for 15 years - I would say that On the Air was one of the top three projects that I've been involved in," he said.
"We had a lot of freedom on that show, a surprising amount of freedom - very little editorial interference."
Making the series entailed listening through a huge amount of material from Gerry's radio shows - two and a half years worth for the final series alone.
"We always listened out for things that had a lot of visual potential, things that whenever the caller referenced certain things, certain animals or whatever, we thought we could use that as a kind of visual reference and create characters around what they were talking about," Mr Simon said.
He described Gerry Anderson as a consummate performer who also worked perfectly as an animated character.
"His voice was very modulated, so he would talk very quietly and then he would suddenly talk very loudly and then leave big gaps in the dialogue," he said.
"He was very opinionated, he could be quite brusque, he did all the classic things that the majority of radio broadcasters don't do and that's why people liked him so much - he was very daring.
"For us as animators it was perfect, because it allowed us to marry his voice with certain animated gestures that were very physical, very kinetic - we were able to make him a larger than life cartoon character."
The new five-part series of On The Air is broadcast from Monday to Friday on BBC One Northern Ireland at 10.35pm starting on Monday, October 27.