Portadown ATM theft: Farm machinery set on fire at petrol station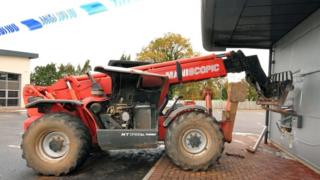 Thieves used stolen farm machinery to try to steal a cash machine from a petrol station in County Armagh.
The agricultural lifter is thought to have been taken from a building site at Killyman Street, Moy, on Wednesday.
It was driven onto the forecourt of a garage at Dobbin Road, Portadown just before 03:30 BST on Thursday but thieves failed to steal the ATM.
The machine was then set alight. Philip Woods who operates the garage said the fire could have spread out of control.
"It was scary," he said.
"We are a petrol forecourt and we are pumping fuel 24 hours and if the wind had blown in the wrong direction, if there had been somebody on the site, who knows what might have happened.
"It could have been an awful lot worse."
He said he was shocked at what had happened and it would inconvenience many people.
Mr Woods said the gang had caused a "lot of damage, they have caused a lot of annoyance to the local community".
"We are the local shop, people are using us day and daily for the ATM.
"It's not as handy to go into the bank. It'll impact on them. "
DUP MP David Simpson said "dangerous vandals" were behind the incident.
"I am particularly thankful to the member of the public who raised the alarm. The thieves set fire to the digger in the vicinity of fuel pumps, which clearly could have led to a scene of devastation today," he said.
"Those responsible for this reckless act must be stopped by the police and I will be calling for additional resources dedicated to night time patrols."
Three men, including the man who was driving the machine, then made off in a white van.
The police have appealed for information.