Facebook case hears monitoring page 'incited axe attacks'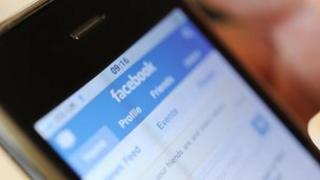 A Facebook page that claimed to monitor paedophiles in Northern Ireland encouraged axe attacks on sex offenders in their homes, a court has heard.
The details emerged at Belfast High Court on Wednesday.
A convicted child sex abuser is seeking damages from Facebook and the administrator of the 'Keeping our kids safe from predators II' page.
He alleges that comments posted on the page incited violence against him.
'Witch-hunt'
The man, who cannot be named, is seeking damages for misuse of private information, breaches of the Data Protection Act and his right to freedom from inhuman or degrading treatment.
He is currently on licence after serving a lengthy jail sentence for offences of gross indecency and indecent assault on a child.
Counsel for the man said that among abusive comments posted on the page, with some aimed at finding out where he lives, he was also threatened with being thrown off a pier during a fishing trip and on another occasion, he was hounded out of a cinema.
Joe McCloskey, the operator of the page, has denied accusations that he was running a witch-hunt and claimed his site helped to secure up to seven convictions.
'Deleting material'
The court heard that Mr McCloskey had said in evidence that he would remove any exact addresses for offenders if they were put on the page.
However, counsel for the plaintiff said material discovered during a Google search, attributed to Mr McCloskey, had been referred on to a website monitoring sex offenders.
Counsel for Facebook confirmed the social media company's policy of deleting material after a period of six months.
The judge asked whether certain documents for disclosure in the case should have been kept, but was told a view was taken that the material was not considered to be relevant.
'Control of data'
However, the plaintiff's lawyer said a number of comments had been identified that should be reviewed.
"We found a number of postings, including 'I'd like nothing better than to bang down a paedophile's door and attack him with an axe,'" he said.
The lawyer also criticised Facebook for its failure to hand over information in connection with the case.
"We are told Facebook is massive, there's so much material we can't give you any," he said.
"They weren't even able to give us material we found that was publicly available. The very business of Facebook is the control of data and in this case we have been provided with zero."
The trial continues.