Northern Ireland knowledge economy 'growing fast' from low base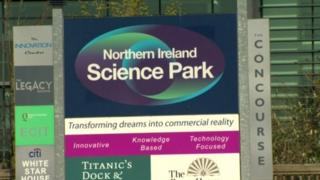 Northern Ireland has one of the fastest growing knowledge economies in the UK, according to new research commissioned by the Northern Ireland Science Park.
But despite its growth, Northern Ireland's knowledge economy continues to lag behind other parts of the UK and is only ranked 10th out of 12 regions.
The knowledge economy is made up businesses that rely on technology and research and development.
It includes pharmaceuticals, aerospace, software and medical device producers.
'Not fast enough'
Produced by the Northern Ireland Centre for Economic Policy at the University of Ulster, the 2014 Knowledge Economic Index found the sector had grown by 33% in the past five years.
However, it said the number of knowledge economy businesses and workers is not growing fast enough. Overall wage levels among knowledge businesses was actually down in the most recent year.
The research suggests that 35,000 people are employed in jobs in this sector of the economy. That equates to about 5% of the Northern Ireland workforce, while the overall UK rate is more than 6%.
The report published data on 21 indicators including salaries, investment, start-ups, PhD numbers and patent registrations.
Based on this, it found Northern Ireland was near the bottom on many metrics, but only the north east of England had a faster growing knowledge economy.
'Amazing talent'
The data showed that 295 start-up companies had been formed in the most recent year compared with 260 in 2010.
"The best option for global export growth is in knowledge economy based companies", said Steve Orr, director of the Northern Ireland Science Park's CONNECT programme.
"We cannot afford to be inward looking if we want to grow more world-class companies and build for the future with the amazing talent we have in this country, he added.