First Trust and HSBC SME loan bundling criticised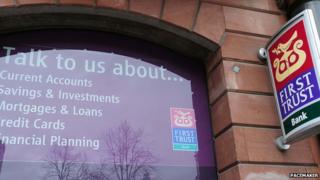 First Trust Bank has been criticised for telling small business customers they must open a current account with them to obtain a business loan.
The Competition and Markets Authority (CMA) said the Northern Ireland-based bank and HSBC breached industry rules.
The watchdog has issued detailed directions to the two banks to ensure they comply with rules that limit the bundling of loans and accounts.
CMA chief executive Alex Chisholm said the breach was "a serious matter".
Low awareness
Introduced in 2002, the legally-binding undertakings were aimed at boosting banking competition for small and medium-sized firms (SMEs).
Banks were told to carry out an audit of compliance and staff awareness of the undertakings, after the Office of Fair Trading became aware of concerns they were being breached.
All eight of the UK's major banks will be required to carry out another audit and report back to the CMA by July 2015, after staff at two other firms were found to have relatively low awareness about the undertakings.
Mr Chisholm said: "Although all eight banks have recognised the importance of complying with the undertakings and are taking steps to address this, when breaches occur we need to ensure that there will be full compliance."
HSBC said: "Since the issue was discovered, we have been working with the CMA to implement a plan ensuring full compliance with the requirements, and will be regularly reporting back to the CMA.
"As part of our audit review, where we find a customer has received the wrong information, we will take action to ensure they have the right information going forward."
First Trust said in a statement that it took all its regulatory obligations "very seriously".
"We have written to all 11 customers identified in the CMA report to advise that they are under no obligation to operate or hold their business current account with us.
"We have also implemented a number of changes to our policies and procedures to ensure full compliance with these undertakings in the future."