Gary Hart appointed as US envoy at NI political talks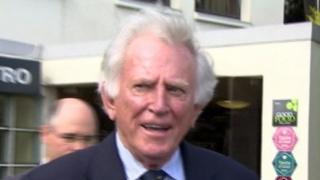 US Secretary of State John Kerry is to send the former senator Gary Hart to act as his envoy at the multi-party political talks at Stormont.
Mr Hart, who is 77, visited Belfast in August where he spent time meeting with local political parties.
He is expected to return before the end of the month.
Mr Kerry said on Tuesday that Mr Hart would help smooth negotiations in the new round of talks being held by Northern Ireland's political parties.
The talks are aimed at resolving difficulties among the five parties in the devolved Stormont government.
Like the Haass talks that ended without a deal last December, the negotiators are considering the problems of flags, parades and the legacy of the Troubles.
'Confidence and trust'
They will also examine changes to the way the assembly and executive work.
Mr Kerry said Mr Hart had "his confidence and trust".
"Whether it's through his 12 years in the Senate, or his work on the US Commission on National Security in the 21st Century, Gary is known as a problem-solver, a brilliant analyst, and someone capable of thinking at once tactically, strategically, and practically.
"Now we're fortunate that he's agreed to devote some additional time to engage in the tough and patient work of diplomacy as my personal representative, including on issues related to Northern Ireland."
'Clear message'
Northern Ireland Deputy First Minister Martin McGuinness welcomed the appointment.
"This appointment is a positive indication of the US administration's continuing interest in the development of the political process," he said.
"It sends out a clear message to everyone that we need to be involved in a proactive and constructive way if we are to have a credible process."
The SDLP's Alex Attwood also welcomed the move, adding that he hoped the US government would become involved in multi-party talks.
"We believe that as happened at St Andrews, the US government should be close to and, when necessary, in the talks' room," he said.
'Crucial time'
The shadow Secretary of State, Ivan Lewis, said Mr Hart's appointment sent a "very strong signal" that the US remained committed to supporting Northern Ireland.
"His appointment comes at a crucial time, following the UK and Irish governments' decision to convene all-party talks on the range of issues causing political stalemate," he said.
The United States Consul General in Belfast, Greg Burton, will serve as Mr Hart's deputy for his Northern Ireland work.
Mr Hart ran for president in 1984 and again in 1988.