Appeal court upholds ruling that 'shut off' child be treated in Dublin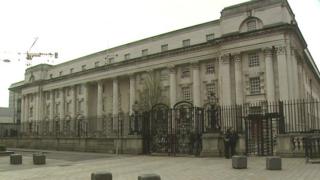 The mother of a teenage girl said to have been shut off from the outside world has lost her appeal against a decision to separate them.
Senior judges upheld a verdict that the 13-year-old urgently needed to be sent to live at a facility in the Republic of Ireland in a bid to undo years of severe damage.
The court heard no equivalent facility exists in Northern Ireland.
Lawyers for the mother could challenge the case in the Supreme Court.
Last month, a High Court judge backed expert opinion that the mother, referred to as M and the daughter referred to as S, should be separated, and ruled that it was in the girl's best interests to live outside Northern Ireland for some time.
His verdict was reached after hearing evidence of the teenager's upbringing, bereft of any real friends and entirely tutored by her mother at their home.
He detailed further issues about the girl's appearance and state of the house, along with episodes of extreme, hysterical behaviour and a relationship with her 49-year-old mother he described as being well outside merely unusual.
Although originally from Northern Ireland, the court heard how M had lived abroad for periods.
She was said to have been impressed by free-spirited lifestyles and returned home having developed friendships with people who shared her thinking, dress style and general approach.
Having split up with the child's father, she moved with her daughter to a small town in Northern Ireland and decided to teach the girl at home.
Both the mother, referred to as M, and her daughter opposed the trust's application, which came after it obtained a series of interim care orders.
In their three grounds of appeal to that verdict, M's lawyers claimed: The judge erred in finding S had insufficient understanding of the issues; he wrongly held that M unreasonably withheld her consent and his ruling was incompatible with Article 8 of the European Convention on Human Rights.
Rejecting all of their arguments, Lord Justice Gillen, sitting with Lord Justices Girvan and Coghlin, held that the child did have a proper opportunity to voice her views and indicate she was not consenting to living in Dublin.
Dealing with the refusal of consent by M, the judges said it was inconceivable that any reasonable parent in her situation would not have welcomed the trust's intervention and support, and have co-operated to turn the situation around.
Lord Justice Gillen concluded: "Any sense of being in a hurry to resolve the child's problems is absent.
"Only separation and expert treatment can secure the welfare of this child in the future and no reasonable parent would withhold consent to that step."