NI universities facing 15% cut in government funding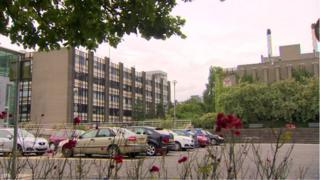 Both of Northern Ireland's universities have been told to plan for a cut of up to 15% in the money they get from the Northern Ireland Executive's budget.
Employment and Learning Minister Stephen Farry has issued the warning to Queen's University, Belfast (QUB), and the University of Ulster (UU).
He said he had to warn staff of cuts as he was "part of an executive that is not properly managing its budget".
The grants equate to approximately one third of each university's income.
'Failure'
The minister said he has told both QUB and UU to prepare for a 15% reduction in these grants within the next academic year.
Speaking on the BBC's Good Morning Ulster programme, Mr Farry rejected responsibility for "imposing" the cuts, and said he was "simply advising the universities to plan ahead" due to the current financial problems in the executive.
"At present, we have the massive failure to properly act responsibly around welfare reform, and there are other pressures.
"So, that's the context in which we find ourselves, it's not one of my making, but unfortunately we are looking ahead next year to, potentially, cuts in the region of 15% " the minister said.
'Massive blow'
Mr Farry said the universities were already recruiting students and making financial plans for the academic year and therefore it was important that staff were given "some sense of where things are likely to head next year".
The University and College Union (UCU), which represents academic staff, expressed concerns over potential job losses and a reduction in student numbers.
Prof Mike Larkin, who chairs UCU's regional higher education committee, said the cuts warning was coming on top of existing efficiency savings and would be a "massive blow" to both universities.
The UU has told staff it is to review its courses and stop those that are identified as under-performing.
Union meeting
The dean of the UU's arts faculty said the university will need to take radical action to meet the financial targets.
UU management is due to meet the lecturers' union on Tuesday, to discuss concerns that its budget, student numbers and jobs could be cut.
QUB had a budget of £286m last year, almost £100m of which was made up from government grants.
Under Mr Farry's estimates, it could face a funding cut of about £14m within the next academic year.
'Immediate cut'
QUB has yet to indicate where it is looking for savings but is holding a series of meetings this week.
In common with other government departments at Stormont, Mr Farry's Department for Employment and Learning (DEL) had its budget cut by 2% during the summer.
Last month, the UU told its staff it was making an immediate £3.15m budget cut due to financial pressures at Stormont.
In a letter to university staff, the UU vice chancellor explicitly linked the budget pressures to Stormont's resistance to implement welfare reform.