Irish A&Es 'not prepared for Ebola' say consultants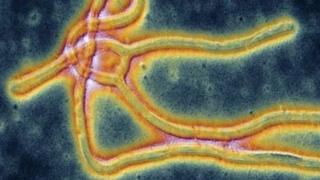 There are serious safety concerns about Republic of Ireland hospitals' ability to deal with Ebola risks, a group of casualty doctors has warned.
The Irish Association for Emergency Medicine (IAEM) said it was "not reassured by Department of Health or HSE claims of full preparedness".
Overcrowding, insufficient isolation facilities and dependence on locum staff were risk factors, the IAEM said.
It said infectious diseases spread in crowded emergency departments.
"Particularly significant is the fact that hospitals serving our major national airports, namely Beaumont Hospital, University Hospital Limerick and Cork University Hospital, are most at risk as they have particularly high levels of crowding," it said.
There have been a number of alerts over people presenting Ebola-like symptoms in the Republic of Ireland, but to date, no case has been found.
On Monday, a woman was brought to an isolation unit in a Dublin hospital, but doctors later ruled out Ebola.
The Health Service Executive, which runs the Republic of Ireland's public health services, has said the risk of Ebola is very low but contingency plans are in place.
The virus has claimed more than 4,000 lives during the current epidemic in West Africa, the largest outbreak since the virus was discovered nearly 40 years ago.