Larne rampage case: Antrim men refused bail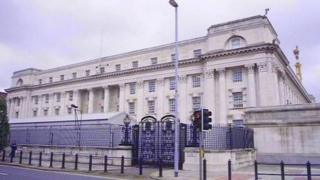 Two men charged over a suspected UDA attack on a home where the victim was allegedly left for dead must remain in custody, a High Court judge has ruled.
Bail was refused to County Antrim men Steven Blackwood and Stephen Mettleton.
The court heard claims they were among 100 masked and armed men who went on the rampage in Larne earlier this year.
Prosecutors said weapons including hammers, golf clubs and possibly a sword were used as two houses came under attack.
At one address, a man was beaten, kicked and stabbed until he lost conscious, with the crowd allegedly only leaving because they thought he had been killed.
The attack at Knockdhu Park in the town is being blamed on the UDA's south east Antrim brigade.
'Attempted murder'
Mr Blackwood, 29, from Moyard Gardens, and Mr Mettleton, 34, of Rossmore Green, both in Greenisland, County Antrim, are each charged with attempted murder, intimidation, criminal damage and rioting.
The defendants deny all allegations against them.
A prosecution lawyer claimed 70 of the 100-strong mob that descended on Larne on 30 March targeted the victim's home.
Telling how he suffered a punctured lung, broken legs and multiple stab wounds, she said: "He was certainly (beaten) unconscious and at the very least left for dead."
Mr Blackwood is allegedly linked by DNA on a balaclava later found in a bin.
Evidence against Mr Mettleton includes a forensic connection to gloves recovered from the bin, according to the prosecution.
'No UDA charge'
Both defendants claim they were not in Larne on the night of the attack.
Their lawyers argued that neither of them has been charged with UDA membership.
Renewed applications for bail were made due to the length of time being taken to progress the case.
However, the judge ruled that any delay was not enough to warrant their release.
Describing the alleged attack as vigilantism, the judge said: "This is some form of inter-group argument between a pseudo-military group of people.
"There's very little that the ordinary civilian will fear more than mob violence, and this is a classic demonstration of the reason for that fear."