George Galloway: Willie Frazer enlists Jamie Bryson as adviser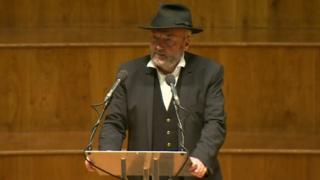 A loyalist victims campaigner has enlisted a high-profile union flag protester for courtroom advice in a libel case with George Galloway.
Willie Frazer is defending the Respect MP's action, over remarks made on social media, without a lawyer.
He is attempting to be released from an undertaking not to repeat allegedly defamatory comments.
Flag protester Jamie Bryson was acting as his non-legally qualified adviser in the High Court case.
Proceedings centre on a speech made at a loyalist protest outside the Ulster Hall in Belfast.
Demonstrations were being staged against Mr Galloway's appearance at the venue on 23 August.
He is suing Mr Frazer and internet search engine Google for alleged defamation and harassment over what was said at the picket and posted online.
The MP for Bradford West claims sectarian and false remarks about him at the picket constituted hate speech that significantly heightened tensions.
In legal papers he listed a series of allegations made about him, categorically denying them all.
A video allegedly posted on YouTube by Mr Frazer of his protest speech at the scene was viewed more than 17,000 times.
Last month he gave an undertaking not to republish the comments on social media until the wider action is determined.
But Mr Frazer is now seeking to be relieved from that pledge because of the anticipated length of time it could take to deal with the case.
As his application got under way a dispute emerged over what was allegedly said in a conversation with counsel for Mr Galloway.
Frank O'Donoghue rejected claims that Mr Frazer was misled into thinking the case would be heard in "a couple of months".
The barrister said: "That is a lie."
With Mr Bryson advising him throughout the hearing, Mr Frazer responded by claiming the barrister told him the case could take "a few months".
But he alleged that there was no dispute when he then suggested it could be a couple of months.
He also claimed the situation had changed since he had given the undertaking.
"There's a number of things this man has said in the past. He's in public life, he's a public representative," he told the judge.
Directing Mr Frazer to file a affidavit, the judge adjourned the application until next month.